Coffee and conversation: BART Police get public feedback at Civic Center Station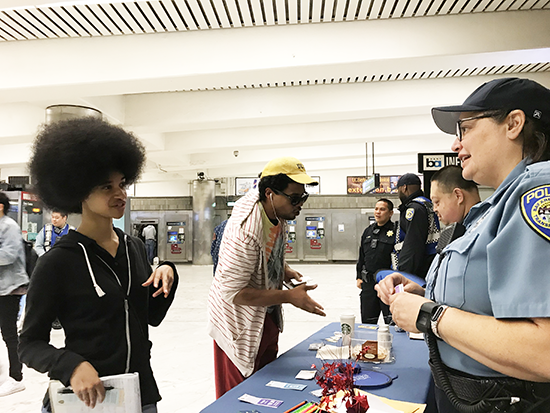 Torii Martin chats with Community Service Officer Patricia Selva at Coffee With A Cop
By MELISSA JORDAN
BART Senior Web Producer
Dozens of riders stopped by tables at San Francisco's Civic Center Station on Thursday to interact with patrol officers, community service officers and brass from BART Police, giving feedback on a host of safety and security issues.
It was "Coffee With A Cop," a quarterly outreach event to promote positive interactions and hear what's on the minds of the riding public. This was the first in recent years at Civic Center -- a station that has been the focus for intense improvements in cleaning and officer presence. The two go hand-in-hand because of the societal issues of homelessness and drug use in the station's general area, the tough Tenderloin neighborhood.
"I am seeing more officers in this station and on the trains and I appreciate that," said Judith Henley, a regular daily commuter. "You're doing a good job with the resources that you have."
She chatted with Acting Lt. Nate Weissich, who oversees the busy Zone 4 that includes downtown San Francisco. "We're glad you're seeing progress, and we know there's still a lot of work to be done," Weissich said. "We're trying to be innovative to chip away at some really big issues. It's very obvious that the system is broken, and it's going to take work on a lot of fronts to fix it."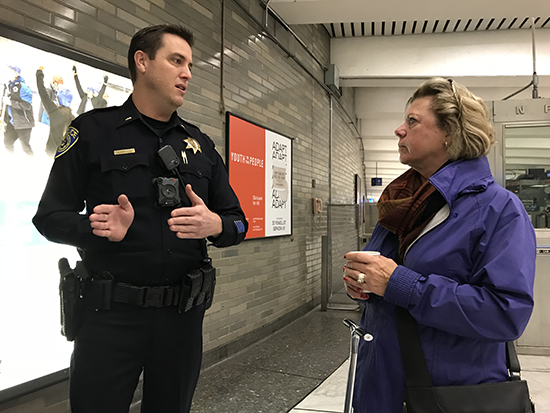 Acting Lt. Nate Weissich chats with rider Judith Henley at Coffee With A Cop
That big picture is addressed in BART General Manager Grace Crunican's Safety and Security Plan, a series of proposals to boost the visible presence of police and employees in the system, enhance BART's already-robust network of surveillance cameras, increase public safety outreach, and more. The plan was discussed for information at a Board meeting Thursday and will be up for a Board vote next.
"I'm really glad to see the attention to this," said Debbie DeLong, another regular commuter. "It's needed very badly." She is a bike commuter and said a pilot elevator attendant program is especially important to her because it makes her feel safe when taking her bike on the elevator.
Torii Martin, who works at the nearby Tenderloin Neighborhood Development Corporation, made a connection with the partially BART-funded Homeless Outreach Team, inviting them to come speak with residents who live in the nonprofit's affordable housing units, who see the impact of the quality-of-life issues in the area.
"I'm happy that they are here out in the public eye and having heart-to-heart conversations," she said. "It helps to establish trust."
Bud Caudle, a recovering addict and formerly homeless person who has been sober for four years and is now housed and working a steady job, called it "a delight" to see increased officer presence and credited it with helping in his recovery. "I for one am really glad the police are here," he said.
Patricia Selva is one of the unarmed BPD Community Service Officers who regularly does outreach, and she came loaded with gold-star stickers for children, reflective bike safety decals and other swag. She showed lots of people how to install the free BARTWatch app on their phones, and gave them tips like programming the BPD dispatch phone number -- 510.464.7000 -- into their contact lists for quick dialing.
"This is a great opportunity for us to meet people in a relaxed setting and talk about the issues that matter to them," she said. "People come up to me every day and thank me, so I feel like my work is making a difference. It's moments like this that make what we do all worth it."
Sgt. Joel Enriquez, who led the organization of the event, had to send out for more coffee when the original batches of Starbucks Traveler packs ran out because there were so many people getting involved. "It's great to see so many people stopping by," said Enriquez, who oversees the day-to-day operations in the busy zone. "We get to have some deep and meaningful conversations with our patrons. They know these are hard issues and they appreciate that we're out here every day working on them."