Fruitvale Station
3401 East 12th Street
/
Oakland
,
CA
94601
---
Service Advisories
Service Advisories
/
/
Get RSS feed
Sign up for email alerts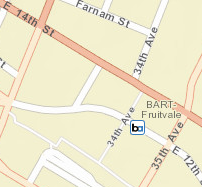 Welcome to Fruitvale
Originally called "Fruit Vale," the neighborhood around Fruitvale BART Station was mostly apricot and cherry orchards in the late 1800s. Today, it's a vibrant neighborhood and one of Oakland's main commercial areas.
Latest News
Get RSS feed
New Pit Stop bathroom added at 24th Street
Downtown Berkeley BART Entrance and Plaza Opens
L
Lines Serving this Station
Dublin/Pleasanton Daly City
Richmond Warm Springs/South Fremont
Daly City Warm Springs/South Fremont
Real Time Departures
Next trains departing from Fruitvale Station:
Parking
Parking is available at Fruitvale and there's a $3 daily fee. Other options include Monthly Reserved, Extended Weekend, Carpool, Single Day Reserved and Airport/Long Term parking. Check out the parking section for details about each program.
Estimated Parking Fill Time: 7:00 AM
Bikes
Bike Racks: Yes
Bike racks are available at most BART stations. Please review the BART Bike Rules.
Bike Station: Yes
Free, secure bike storage is available in Fruitvale Village, directly adjacent to the Fruitvale BART Station. In addition there are 28 BikeLink lockers. Learn more...

FREE secure bike parking is available at several BART stations. Visit the Bike Section for more Bike Station information.
Bike Lockers: 20 shared use electronic lockers are located at this station. Read more about electronic lockers.
Connecting Transit Routes
This station is served by AC Transit.
Try BART's free trip planning service!
For a personalized trip plan with BART and connecting transit, call the BART Transit Information Center. It's fast, it's easy, and it's tailored just for you!
Connecting Transit Trip Planner
Elevator Locations / Accessible Path
Projects/Plans
Learn more about planning activity at this station and throughout Alameda County.
Other Transportation
Car share services are available at Fruitvale Station. More information is available at City CarShare.