Ashby Station
3100 Adeline Street
/
Berkeley
,
CA
94703
---
Service Advisories
Service Advisories
/
/
Get RSS feed
Sign up for email alerts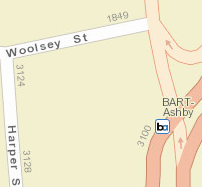 Welcome to Ashby
Ashby Station is located on Ashby Avenue and Adeline Street in the southern part of Berkeley. On weekends, the City of Berkeley sponsors a popular flea market in the parking lot.
Latest News
Get RSS feed
New official BART App offers exclusive features for hassle-free travel
Expect 15-20 minute delays on the Antioch line Saturday 11/17
L
Lines Serving this Station
Richmond Warm Springs/South Fremont
Richmond Daly City/Millbrae
Real Time Departures
Next trains departing from Ashby Station:
Parking
Parking is available at Ashby Station and there's a $3 daily fee. Other options include Monthly Reserved, Extended Weekend and Long Term/Airport parking. See the parking section for details about each program.
Estimated Parking Fill Time: 8:00 AM
Bikes
Bike Racks: Yes
Bike racks are available at most BART stations. Please review the BART Bike Rules.
Bike Station: Yes
Located just outside the main entrance to the station on the lower (West) side of the station. This is a self-serve facility and requires a BikeLink Card for access. Learn more.

FREE secure bike parking is available at several BART stations. Visit the Bike Section for more Bike Station information.
Bike Lockers: 24 shared use electronic lockers are located at this station. Read more about electronic lockers. 24 keyed lockers are located at this station. Call Customer Services at 510-464-7133 to ask about availability of keyed bicycle lockers. Many stations have a wait list. Download an application form for keyed bicycle lockers.
Connecting Transit Routes
Ashby Station is served by AC Transit.
Try BART's free trip planning service!
For a personalized trip plan with BART and connecting transit, call the BART Transit Information Center. It's fast, it's easy, and it's tailored just for you!
Connecting Transit Trip Planner
Elevator Locations / Accessible Path
Projects/Plans
Learn more about planning activity at this station and throughout Alameda County.
Other Transportation
Car share services are available at Ashby Station. More information is available at City CarShare and Zipcar.