Walnut Creek Station
200 Ygnacio Valley Road
/
Walnut Creek
,
CA
94596
---
Service Advisories
Service Advisories
/
/
Get RSS feed
Sign up for email alerts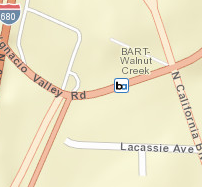 Welcome to Walnut Creek
The Walnut Creek BART Station is a key piece of infrastructure for a thriving community that can also be characterized as the business and arts center for Contra Costa County.
Latest News
Get RSS feed
New Pit Stop bathroom added at 24th Street
Downtown Berkeley BART Entrance and Plaza Opens
L
Lines Serving this Station
Antioch SFIA/Millbrae
Real Time Departures
Next trains departing from Walnut Creek Station:
Parking
Parking at Walnut Creek Station includes:
Daily fee ($3 per day)
Single Day Reserved Permit
Monthly Reserved Permit
Airport Long Term Permit
Extended Weekend
See the parking section for details about each program.
Estimated Parking Fill Time: 7:00 AM
Bikes
Bike Racks: Yes
Bike racks are available at most BART stations. Please review the BART Bike Rules.
Bike Station: None


FREE secure bike parking is available at several BART stations. Visit the Bike Section for more Bike Station information.
Bike Lockers: 48 keyed lockers are located at this station. Call Customer Services at 510-464-7133 to ask about availability of keyed bicycle lockers. Many stations have a wait list. Download an application form for keyed bicycle lockers.
Connecting Transit Routes
Connecting Transit Trip Planner
Elevator Locations / Accessible Path