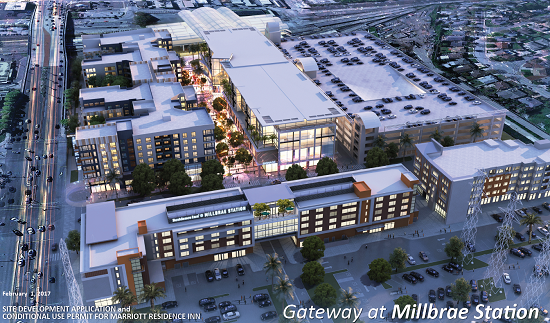 Project Description
Republic Urban Partners is proposing to develop a mixed-use Transit-Oriented Development that will consist of four buildings on 9.5 acres. The development will be located on BART property adjacent to Millbrae Station in the City of Millbrae.
One building will be six stories with 150,000 square feet of office use and 23,000 sq. ft. of retail on the ground floor. There is also a 165-room, 5-story hotel proposed with 8,000 sq. ft. of ground floor retail. There are two residential buildings proposed. One is a 5-story building with 80 affordable units and the other is a 7-story building with 320 market rate units and approximately 14,000 square feet of retail.
Affordable Housing
BART's Board of Directors approved an affordable housing policy in 2016, requiring a minimum of 20% of units produced through BART TOD projects be affordable.
The affordable housing component of the Millbrae Gateway project will be for veterans with household incomes at or below 80% of the Area Median Income (considered "low income"). Given the Bay Area's high cost of housing and living, affordable housing located at transit stations is a regional priority as identified in Plan Bay Area, the region's Regional Transportation Plan/Sustainable Communities Strategy.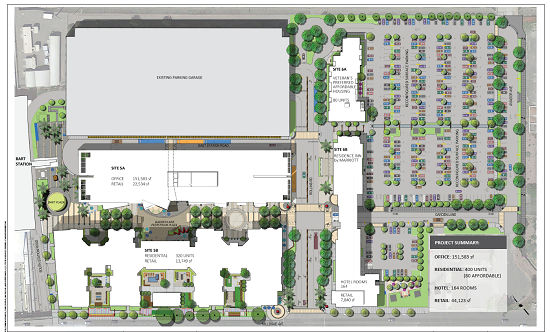 Gateway at Millbrae Site Plan (download pdf of full plan)
Project Status
The proposed project is currently under review in the City of Millbrae entitlement process. For more information on the project please visit the City of Millbrae website or Republic, the developer's website.