Transit-Oriented Development Guidelines
BART's Transit-Oriented Development (TOD) Guidelines are intended to provide greater clarity around BART's expectations for TOD, both on its property and within the larger station area. There are many audiences for this work: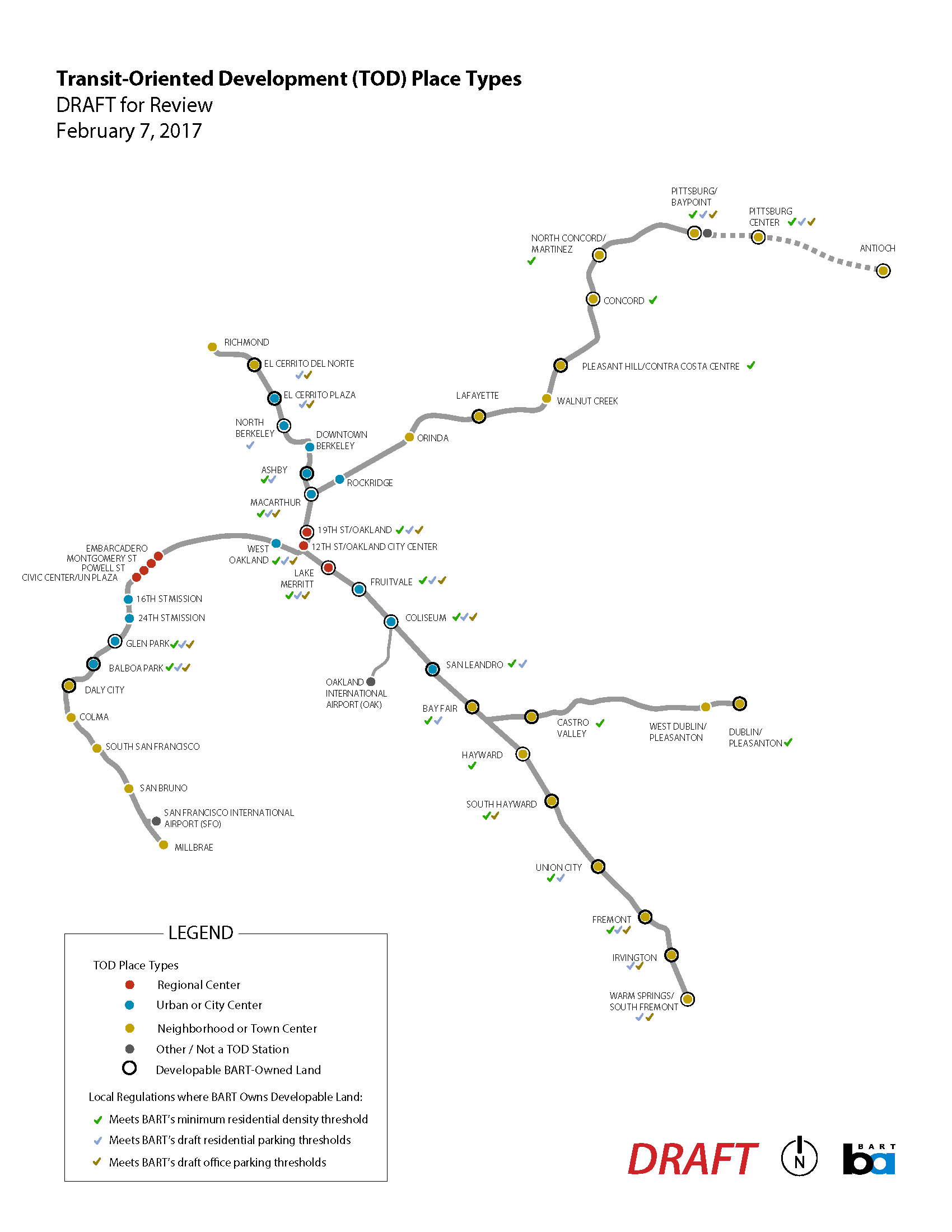 BART's partner cities and local jurisdictions seeking guidance on developing transit-supportive station area plans;
Developers interested in knowing what expectations might be for future TOD solicitations on BART's properties;
Community members wanting to understand when and how they can get involved in shaping TOD near BART stations; and
Others wondering about BART's future intentions for its properties, and wanting to understand BART's TOD Policy.
BART has released a new set of draft TOD Guidelines, and is accepting comments until March 1, 2017. BART is reaching out to local jurisdictions and developers for feedback on specific aspects of the guidelines. Please email comments or responses to these questionnaires to athorne (at) BART (dot) GOV.
To ensure this document references the most current set of BART's policies and procedures, relevant additional materials have been included in nine appendices. All of the following documents are in pdf form:
BART Draft TOD Guidelines (9 mb)
Appendices:
A. BART TOD Policy
B. TOD Performance Targets
C. BART Affordable Housing Policy
D. The Internal BART TOD Approvals Process (forthcoming)
E. BART's Station Access Policy
F. BART Multimodal Access Design Guidelines (forthcoming)
G. BART Facilities Standards: Architecture: Passenger Station Sites Chapter (as of January 2016)
H. Policies Guiding BART Customer Parking: Overview, 2013 Pricing Resolution, 2017 Board Presentation
I. Project Stabilization Resolution
J. BART Strategic Plan: Connect & Create Great Places 4-Year Work Plan (2016-2020)