"BART a National Leader in Real-Time Data Transparency and Development" -- Streetsblog
Read more about BART's open data initiatives in Atlantic Magazine,
Xconomy and the Trillium Transit Blog.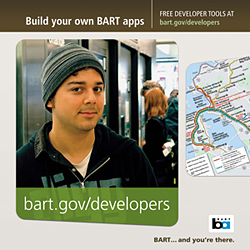 The Real BART API
You know you want it: practically everything we've got in one place. Real time, schedules and trip plans, station area information, and more. What are you waiting for?
GTFS Schedules
BART schedules, fares and other data in the open General Transit Feed Specification (GTFS).
BART GTFS-Real Time Feed
BART was among the first in the world to release real time arrivals and service advisories in this feed format, built to work with GTFS. Check it out.
BART Geospatial Data
BART geospatial data includes station locations, station entrances, and other information. Get it in KML or KMZ.
Editable App Map
Looking to round out your app with a customized version of the BART system map? Look no further.
RSS Feeds
BART Service Advisories and more in the ubiquitous RSS format.
Simple ETD Feed (2008 - 2013)
Great data, less filling: it's a simple-to-use raw XML feed of real time departures for every station.
Embedded QuickPlanner (2006 - 2013)
Add BART trip planning services to your website, blog or a company intranet.
DIY Real Time Displays (2006 - 2013)
Make your own display with real time BART arrivals for your office, home or business.