Bring the Bay Area to Your App
BART carries more than 400,000 riders every weekday. It's a huge part of life here in the San Francisco Bay Area. From mobile apps to online maps, the BART Developer Program powers hundreds of innovative solutions for BART riders. We have a thriving network of more than 5,000 developers and the most reliable, most accurate BART data services available. Best of all: we don't make you sign any agreements or jump through hoops to use BART data. So start building.
"BART a National Leader in Real-Time Data Transparency and Development" -- Streetsblog
Read more in Atlantic Magazine, Xconomy and the Trillium Transit Blog.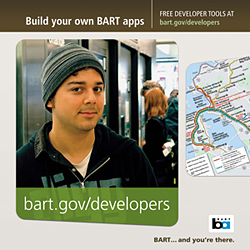 The Real BART API
A one-stop shop for your next killer app: Real time arrivals, schedules, trip plans, delay advisories, station area information and more. Take a look.
BART GTFS
BART was one of the first transit agencies in the world to offer schedules, fares and other data in the open General Transit Feed Specification (GTFS).
BART GTFS-RT
BART helped create this standard, lightweight way to describe real time arrivals and service advisories as an extension to GTFS. Check it out.
BART Geospatial Data
BART geospatial data includes District boundaries, station locations, station entrances, and other information. Get it here.
Editable App Map
Looking for a custom BART system map for your application? Look no further.
RSS Feeds
BART Service Advisories, News and more in the ubiquitous RSS format.

No Longer Supported

Simple ETD Feed (2008 - 2013)
This was a basic XML feed of BART real time departures and one of the first real time transit feeds in the nation. We phased it out once the Real BART API launched in 2010.
Embedded QuickPlanner (2006 - 2013)
This was an iframe embed of a customizable QuickPlanner interface used on websites, blogs and company intranets. We phased it out once the Real BART API launched in 2010.
DIY Real Time Displays (2006 - 2013)
This was a configurable real time BART arrival screen used in office lobbies, cafes and even some stations. We phased it out once the Real BART API launched in 2010.