Developer Solicitation Process
BART is soliciting a developer for approximately 20 acres at North Concord/Martinez BART station in Concord. On October 5, 2018, BART received three responses to its Request for Qualifications, led by:
Brookfield Residential / Novin Development Corporation
Essex Property Trust, Inc.
The Michaels Organization / The Republic Family of Companies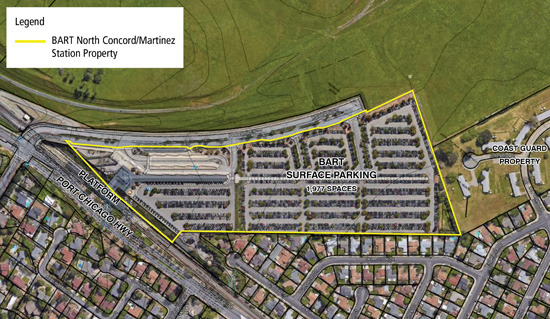 BART staff are currently evaluating these responses. Following this evaluation, staff will make a recommendation to the BART Board of Directors, who will vote on the next step in the development process.
For more information, please see the solicitation:
Request for Developer Qualifications for Transit-Oriented Development – North Concord/Martinez BART Station
---
Background
BART hosted a Pre-Submittal meeting and networking session on Monday, August 20 from 1:00 - 3:30 PM. Materials from the meeting can be downloaded below. The Questions and Answers document summarizes both questions received at the Pre-Submittal meeting, and any further written questions received by the September 7 deadline for questions.
---
Links
Concord Community Reuse Project Specific Plan website
BART Transit-Oriented Development
You may also sign up for email updates from the Real Estate and Property Development Department, by registering for general BART emails and selecting "Transit-Oriented Development Projects."